Medical transport, patient transport Novi Pazar
---
30 Gojka Bacanina st., Novi Pazar
Our diagnostic center "SKENER" began work in 2003 and ever since we have been providing the highest quality services in modern diagnostics to many satisfied clients. This way we ai ...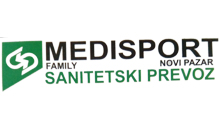 nn Kosanciceva st., Novi Pazar
Why opt for private patient transportation via MEDISPORT FAMILY sanitation? Because patient transportation for immobile and severely impaired persons is done via special sanitize ...
---